The summit's focus firmly pivoted to the business world. Specifically, how organisations can help accelerate the fight against climate change.
The calls to action are loud. From 2023*, the UK government will ask businesses to take responsibility for their environmental impact. The directive applies to larger firms and financial institutions and sets ambitious targets for achieving net-zero by 2050, with participating businesses required to prove how they'll hit the target. In other words, how they'll protect the planet and safeguard their own longevity by becoming sustainable.
The path for transitioning to low carbon is left mostly to leaders and shareholders. With no two businesses the same, this leaves it open to interpretation, and without a formula to follow, achieving net-zero can feel daunting. But becoming sustainable is a once-in-a-generation opportunity. It's a prospect that's more than worth the commitment, legal obligations aside.
But first, what are the benefits of becoming net-zero as a company?
A differentiator in the marketplace – a commitment to net zero means adapting and adding value; however, the world changes. That's a powerful long-term sell. Question – is there a window of opportunity for this to be a point of differentiation?
Build reputation and trust – customers want to know that by working with you, they're doing well and doing right.
Bring fresh opportunity to do something different – attract customers, suppliers and partners who may not have been in your traditional target base by offering services that meet their own sustainability objectives.
Forge a stronger relationship with the local community – prove that you're a force for good and become more resilient in the process, benefiting development plans, talent attraction and reputation.
Reduce cost process efficiency and waste – net-zero is an opportunity to become leaner, more agile and look critically at where time, money and resource is spent.
Encourage innovation – becoming sustainable means finding new and better ways. Tackling net zero means creating a dynamic environment where the best ideas win.
How can companies create and show change?
A culture shift will be the driving force behind meeting net-zero targets for most organisations.
When led by conviction, sustainability is elevated from being an ethical, responsible concept to a transformational opportunity for becoming greener, leaner, and stronger.
It is about meaningful and tangible action, 'walking the walk' to prove you are trusted to close the gap on achieving net-zero. There is no right way to become a sustainable operation; it takes time to implement change. However, to achieve net zero in the next few years, there are some obligatory measures to have in place.
1. Have clear policies in place that apply to everyone
Sustainability must be integrated into company policy. Only when making a change is placed at the heart of a business, as a required policy with clear initiatives and strong leadership around it, will people really start to take action.

This applies to all areas of business, including suppliers, and as a bare minimum, net-zero must feature on Energy, CSR and Environmental policies. The importance of net-zero policy must not be underestimated, and as the target date hurtles forward, the legal implications of non-action will likely become more severe.
2. Draw up tangible but ambitious objectives and targets.
Setting sustainability objectives is as much about understanding risk as it is about unlocking the potential opportunities for growth and efficiency.

When creating objectives, ask what's under the hood of your business – the oil that makes the engine tick – and what goes into delivering your service. How will that delivery be affected by significantly reducing carbon emissions and waste? In addition, what efficiency, productivity and continuity gains can be made through harnessing smarter technologies, operating leaner, and proving that you're serious about net-zero?
3. Plan how to translate monitoring data into tangible action
Visibility is key to achieving net-zero and the opportunities that come with it. You need to have a framework and the correcting monitoring tools in place to understand energy consumption and waste, where it comes from and how it translates into carbon emissions.

Consider installing monitoring mechanisms that integrate with a centralised, cloud-hosted dashboard for a 360 view of net-zero risk. (Node4 can assist with this implementation – ask us a question here.) Then comes the part that many struggle with – quantifying data output into carbon emissions and generating a number that you can work on reducing.

Robust governance and compliance work such as ISO 50001 (Energy Management) and ISO 14001 (Environmental Management) will help your business make sense of the vast amount of new data you'll generate through net zero efforts. These certifications provide an excellent framework to operate and report from, and their structures will pinpoint risks and continuous improvement opportunities.
4. Understand how you'll report to invested parties
Being able to demonstrate that you're sustainable is a matter of viability. In the wake of COP26, pursuing net-zero is an undisputed measure of adaptability and added service value. When drawing up sustainability objectives, define how you will prove that commitments are contributing to increased value and reduced risk.

Customers are also becoming more selective about who they work with – any business that cannot prove that their supply chain deploys sustainable practices risks rejection. And of course, shareholders and stakeholders need to know that their investments will keep adding value, safeguarding longevity. After all, failure to adapt to new ways of operating will potentially contribute to unreliable, expensive service and a hit to reputation.
5. Implement good sustainability practices
A demonstrable sustainability strategy is made a success by everyone. Embedding net-zero and sustainability into company culture through training programmes will help enormously in delivering value. Training should include employee education around areas such as electricity usage, waste reduction and green travel, in addition to sharing how you build a sustainable future from the top.
6. Be crystal clear on your legal obligations – even if you aren't in the Legal Team!
Understanding the law comes with the net-zero territory. In the UK, companies with revenues above £44m or over 250 employees must comply with the ESOS (Energy Savings Opportunity Scheme.) This is a mandatory scheme that monitors how large firms consume energy. Those subject to ESOS must also assess energy usage every four years and demonstrate a commitment to finding new ways to save energy.

With a mandated framework to adhere to, a legally approved reporting mechanism for data collected via monitoring is absolutely fundamental. ISO 50001 can help your business develop a formalised way to prove sustainability gains to regulators. Smaller businesses are subject to net-zero guidance, too, including SECR and CSR initiatives for energy consumption and reporting. Depending on business activity and size, there will be separate legal obligations to satisfy within these initiatives. We recommend consulting with a compliance and governance specialist if your organisation does not have its own.
Thinking smart about sustainability at Node4
As a critical infrastructure operator, Node4 takes sustainability seriously, and because our data centres have a high energy demand (98% of our electricity usage goes into delivering essential services), we're dedicated to thinking smart about net-zero and doing right by the environment.

The net-zero target sits high on our risk agenda but also takes pride of place in our company culture, which is driven by trust, innovation, and passion. The key ingredients for making net-zero happen! By making changes that ensure longevity, adaptability, and lesser impact on the world we share, we ultimately benefit our customers.
What we do at Node4 (that you could consider too!)
We monitor and report on our electricity usage with SECR and TechUK CCA. As a technology and transformation specialist, we have done this for several years and have thousands of electricity monitoring mechanisms across our operation.
We keep check on travel across our workforce, focusing closely on company car CO2 emissions. And from this, we're proud to have a fleet of electric and hybrid vehicles.
We work on reducing waste, whether that's excess water from cooling our data centres to packaging used in our offices, and of course, fuel and electricity efficiency.
When upgrading infrastructure, we carefully choose the best technology possible. Environmental impact and energy efficiency are at the heart of decision making.
We stringently vet suppliers and approve them from commercial, financial and compliance perspectives. This ensures that suppliers don't just guarantee legal compliance but that they meet Node4's high internal standards and core values.
We are proactive about climate change. For example, we monitor weather conditions that could potentially impact our data centres and have implemented mitigation to manage events caused by extreme weather conditions.
As Node4 continues its journey to achieve its net-zero objective, customers can rest assured that their technology service supply chain is legally compliant, ethically responsible and delivering an added value, adaptable and future-fit service. Are you interested in working with us too? Click here to arrange a chat with our team.
*Currently a proposed Treasury rule as announced by The Chancellor at COP26.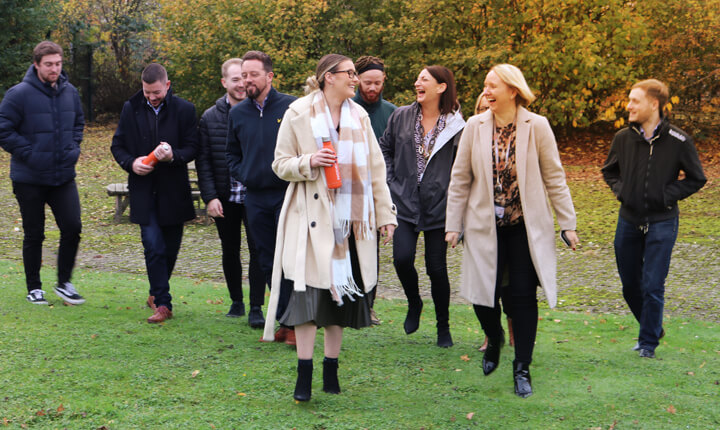 The events of the past year have brought to light the importance of talking about, acting upon, and looking after the mental wellbeing of ourselves and those around us.