As part of our #Miles4aMonth challenge in April, staff walked, ran and cycled their way to achieving a collective target of 3,000 miles (a round trip of our UK offices three times over) and raised £1,251 (and counting).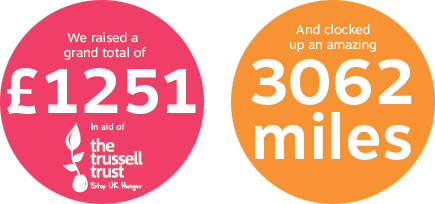 The team got friends, family and even dogs involved, and along the way received digital postcards signposting how many miles they'd clocked up and landmarks they'd theoretically reached.
Here's what some of our team had to say about the experience
"Due to the pandemic, most sporting events were cancelled so it's been hard to get motivated to train. #Miles4aMonth was the perfect opportunity to set a goal and push that extra bit harder. Knowing people have sponsored you adds that extra bit of pressure as well, which is sometimes exactly what I need to kick myself out of the door in the morning!" – Geoff Barlow, Cloud Architect.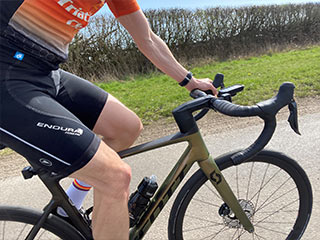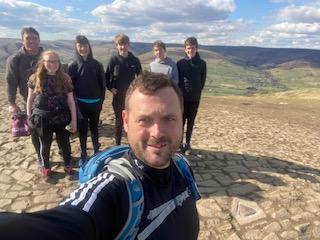 "I set myself a target of riding 250 miles on my MTB and walking 100 miles during April. Once I achieved both of my personal targets, I got a feeling of satisfaction, knowing my efforts had led to money being raised for The Trussell Trust." – Pete Gout, Senior Account Manager.
"The #Miles4aMonth challenge gave me the motivation I needed to push myself to walk further each day, if only an extra half a mile. It's increased my fitness, allowed me to explore new places and has helped raise money for a wonderful charity. Plus, the dogs have loved the longer walks!" – Izzi Fuller, Digital Marketer.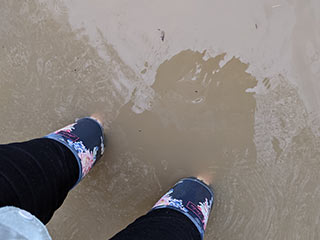 #Miles4aMonth is one of just several initiatives that we've run to keep the wider team spirit up and boost employee wellbeing while most of our teams work remotely. Over the past year, we've offered online meditation, yoga and pilates classes, got together over virtual coffee mornings and company-wide quizzes and provided ongoing mental health support through our Mental Health First Aiders programme and online reward gateway.

Our commitment to creating the best possible workplace for our people has not gone unnoticed, with Great Place to Work® recognising us as one of the UK's Best Workplaces and as a centre for Excellence in Wellbeing this year.

#Miles4aMonth was also part of our commitment to supporting our Charity of the Year, The Trussell Trust. With their ultimate vision to end the need for food banks in the UK, they support a nationwide network of food banks and together provide emergency food and support to people locked in poverty.

If you'd like to support the team with their fundraising for The Trussell Trust, there is still time to donate! Head over to our JustGiving page.