In our increasingly digital world, police forces around the UK are being urged to keep up with demand and embrace a modernised, tech-first approach.

Digital transformation is a key theme running throughout the National Policing Strategy 2020-2030, with an ambition to drive improvements in data, technology and the skills of those who use it. To achieve this, forces must ensure they're making the most out of the newest technology advancements, whilst also focusing on how to implement them quickly and cost-effectively.

Adapting to new technology advancements offers police forces a new, improved way of working. This can help them drive efficiencies, giving them more time to spend on value-driven activities placing citizens at the heart.

Here, we explore the most common challenges faced by police forces, and how Microsoft Power Apps can help to overcome them.

SUPPORT FRONTLINE OFFICERS
For police officers in the UK, working under pressure has become part of their everyday role.

Microsoft Power Apps help to streamline day-to-day tasks. They ease administrative burden and allow frontline officers to spend less of their valuable time on manual, time-consuming jobs and more time on protecting the communities they serve.

Created in close partnership with two UK-based constabularies, our Power Apps for Policing offer a set of applications that help streamline day-to-day tasks and challenges. The apps allow information to be captured digitally on the go. They also introduce automated workflows and tailored specifications and integrations. Take the Pocket Notebook app for example. This app helps officers move away from a manual pen-and-paper approach. Instead, allowing them to collect information digitally, both online and offline. The notes are logged against the relevant incident number and stored centrally back at headquarters for easy reference in future. Similarly, the Witness Statements app provides officers with pre-determined data fields and templates. This ensures data is captured in line with legislation and no important evidence is missed.

increase efficiency and simplify processes
Making the most of technology-driven opportunities and new innovations can help police forces successfully adapt to a new, modernised way of working.

Power Apps work to improve operational efficiency and simplify processes. They make the day-to-day tasks of on-duty officers easier to complete and remove the need to double or triple-key information back at base, saving officers' time and resource that can be invested back on the frontline.

Node4's new I-LEAP Search Application is an ideal example of how Power Apps can help simplify processes. The app helps forces access EU data with ease, something which has proved time-consuming and inefficient since the UK left the EU in 2020. The user-friendly app offers police forces real-time access to INTERPOL's network database (FIND), as well as connections to other police databases, including NICHE and the PNC. This helps to remove the previous bottleneck caused by limited teams being tasked with searching for this specific information and provides officers with need-to-know information almost instantaneously.
DISCOVER MORE ABOUT THE I-LEAP SEARCH APPLICATION
As of April 2024, all UK police forces need to have I-LEAP search capabilities – this is a Home Office requirement. Node4's I-LEAP Search Application is the first standalone app built to access INTERPOL data.

Take a look at our handy datasheet to learn more about the app and the key benefits it offers for police forces.
HOW CAN WE HELP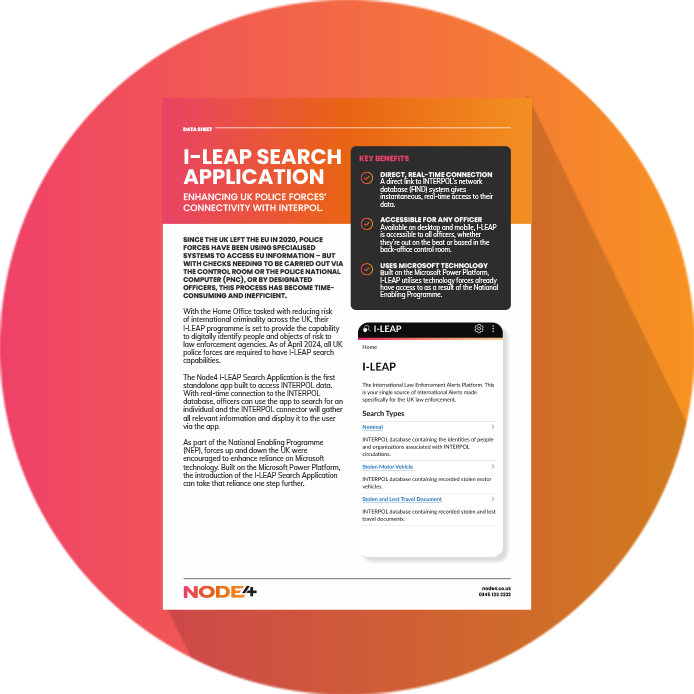 improve citizen experience
Police forces hold a lot of responsibility, and with high demand and expectations placed on their shoulders, delivering a reliable citizen experience is essential.

Power Apps offer a modern, connected system. Information and data can be captured online or offline and is stored in a central location that can be accessed with ease. They can provide officers with the means to efficiently support victims of crime, as well as offer the victim themselves direct support and assistance with certain tasks. This includes getting reference numbers immediately, receiving advice articles via email and easy-to-use portals for other required support.

Our Burglary Investigation Power App helps officers provide an improved citizen experience. Using the app, officers can offer tailored and timely support to anyone who has been burgled. Victims will receive an instant crime reference number, as well as bespoke advice.

It is important that victims of crime feel as supported and at ease as possible. With a tech-first approach, evidence can be collected efficiently and victims can follow up on their case without issue, all while ensuring personal data is kept safe and secure.

HELP IDENTIFY NEW AND CONTINUING TRENDS
Police forces around the UK are tasked with keeping more than 67 million citizens safe. By spotting trends early, officers have a better chance of preventing a crime before it happens.
Power Apps allow for easy, simple collection of data, storing it centrally in an easy-to-access location. By leveraging historical and new data and utilising predictive algorithms and advanced analytics, police forces can operate more efficiently. They're able to allocate their resources effectively and deploy officers to areas with the highest risk. In turn, allowing them to target criminal activity early and intervene before a crime occurs.
Our Burglary Investigation Power App is a great example of how an application can help forces predict trends. The app allows for at-scene information capture using a set of templated questions. This not only ensures all relevant detail and evidence is noted down but also offers standardised data sets. Captured data can be collated and analysed to identify patterns and crime hotspots, helping forces stay one step ahead and enabling a more proactive response.

DISCOVER MORE ABOUT HOW NODE4 DELIVERS CHANGE THAT MATTERS
From the beat to the back-office control room, Node4 is here to help your force overcome challenges and keep up with ever-growing digital demand. Using Microsoft Power Apps, and other innovative technology, we can support your force's digital transformation journey and ensure your drive towards a modernised way of working is a success.

To find out more about how we can help, get in touch with one of our experts today by clicking below.