As organisations begin to shed the last of their legacy IT, expect to hear more and more about virtual data centres. Whether you notice your competitors exploring the technology or are asked to specify a solution for your business, the significance of virtual data centres as a cloud infrastructure option is set to boom.
So, what is it that makes the virtual data centre valuable? Who should consider using them, how exactly do they work and what are their best benefits? We explain all in our Virtual Data Centre 101 guide.
WHAT IS A VIRTUAL DATA CENTRE?
A Virtual Data Centre, aka a VDC, is a one of the more recent types of cloud environment that mirrors the infrastructure typically seen in on-premises data centres.
In essence, it allows authorised users to create and manage their own data centre infrastructure virtually. A VDC falls under the banner of "software-defined", and can therefore be accessed via the internet and managed remotely from any location.
VDCs are an appealing alternative to the standard UK data centre, thanks to their inherent flexibility and freedom from on-premises or physical expenses, such as maintenance, staff and licensing. Alongside that, they also offer a means of streamlining IT infrastructure costs and performance.
WHAT SIZE ORGANISATION COULD USE A VIRTUAL DATA CENTRE?
Any size of organisation can benefit from a VDC. If you're handling (or see yourself doing so in the future) a mix of public, private and on-premises infrastructure – keep a VDC in mind.
With even small organisations needing sophisticated digitalisation to compete, the buzz around virtual data centres makes complete sense. They're a genuine mechanism for unlocking top-tier tech agility, scalability and performance for smaller organisations or those looking to accelerate digital modernisation.
That said, a VDC is also a fantastic alternative for larger organisations, too, especially those managing hybrid cloud environments. Thanks to its customisation options, integration and scalability, a VDC lends itself to hybrid cloud enablement. Whether you want to modernise on-premises for the cloud, leverage new technology while retaining legacy IT or explore automation, think VDC.
DISCOVER MORE ABOUT VIRTUAL DATA CENTRE
Node4's VDC is designed with your needs in mind. By combining the power of the modern virtual data centre and our expertise, we're able to offer a modern Infrastructure as a Service platform that provides true flexibility for hosting customer workloads.
Watch our VDC Introduction video with our Cloud Technology Practice Director Andy Slater, or click below to visit our VDC hub.
HOW CAN WE HELP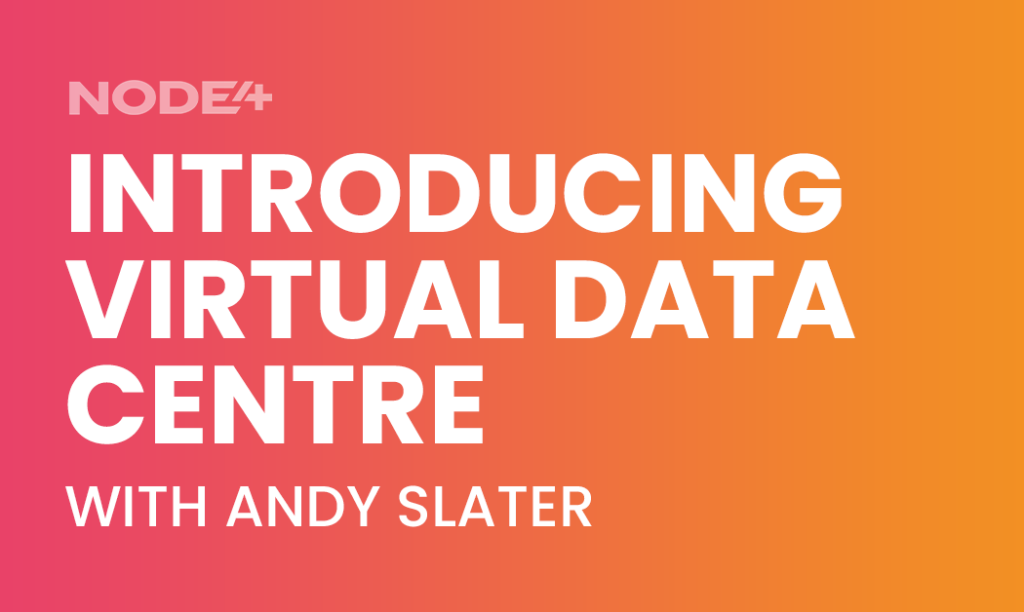 HOW DOES A VIRTUAL DATA CENTRE WORK?
In short, a VDC works by abstracting computing hardware resources, such as servers, storage, and networking, and virtualising these resources in a user management dashboard. From here, users can provision and manage their virtual machines, storage, and network resources.
As a result, IT leaders can invest less in physical infrastructure and its associated costs – choosing to grow bottom lines or invest in transformative new technologies.
A VDC is usually hosted by a Cloud Service Provider (CSP) or Managed Service Provider with its dedicated hosting infrastructure (Node4 happens to be both). Users can expect to access their environment through a web-based portal or API, from where they can perform a range of tasks.
WHAT ARE THE BIGGEST BENEFITS OF A VIRTUAL DATA CENTRE?
For most businesses, a VDC has the edge over traditional services. Virtual servers can deliver superior scalability, resiliency, commercial flexibility, and a host of other benefits, including:
Scalability – easily scale up or down your computing resources as needed. Quickly respond to changing demands without having to invest in additional physical infrastructure or wait for manual provisioning. In addition, you can access virtual servers as and when needed.
Cost-effectiveness – reduce costs associated with building and maintaining a physical data centre, including upfront hardware and ongoing maintenance expenses. When your resources are virtualised (at least with Node4), you pay only for resources used.
Flexibility – customise infrastructure to meet specific needs, without relying on a one-size-fits-all solution. This flexibility can lead to improved performance and efficiency, alongside greater control over data and security.
Usability – manage resources from anywhere with an Internet connection. And, when you're no longer distracted by physical infrastructure or cumbersome provisioning, you have greater control over where IT teams focus their skill.
Resiliency – if you use an MSP, your provider is responsible for maintaining your infrastructure stack, eliminating a whole level of risk. Your MSP should guarantee high levels of availability – higher, in fact, than if you used their physical data centre equivalent.
An in-data centre service like colocation or managed hybrid cloud might be more appropriate for those with high compliance, legacy or complexity pressures. If you're interested in a Virtual Data Centre but need to figure out how it'd work in practice, ask Node4 a question here.
HOW DO VDCS COMPARE TO A TRADITIONAL DATA CENTRE?
A VDC differs from a traditional data centre in several fundamental ways. Although you'll almost always be better off with a modernised alternative, it's still important to be aware of what you trade in and how your infrastructure stack will change.
Hardware – VDCs use virtualised resources that are abstracted from the underlying hardware. That means no more physical servers, storage devices and networking equipment and a carefully managed transition project to follow.
Management – VDCs are managed by your MSP or CSP. Therefore, you may need to redeploy the staff currently managing and maintaining physical infrastructure.
Cost – with a VDC, you'll likely switch to a PAYG billing model. Most businesses will save significant money over time. However, precise cost management and monitoring strategies will ensure that pricey usage spikes don't catch you out.
Scalability – VDCs are more scalable than traditional data centres, as resources can be easily provisioned and scaled up or down as needed. As an IT leader, you'll want to take advantage of this – so ensure you've all the supporting skills (application modernisation, cybersecurity).
Accessibility – VDC management tools are accessed via the Internet. So, ensure reliable and secure remote connectivity solutions are in place before making the switch, along with a robust identity and access management programme.
WHERE CAN YOU FIND VIRTUAL DATA CENTRE SERVICES?
Data centre virtualisation is a type of cloud migration and will therefore be a unique process for your business. Our expert consultants at Node4 can help you leverage Virtual Data Centre services and ensure that the transition project is streamlined, strategic and simplified – just like your cloud environment will be once virtualised.
To help establish whether a VDC is your best direction, Node4 offers two hours of free cloud consultancy. To book a session, please send us a message here. To read more about our cloud options, click here.